Carrying extra pounds is considered a serious health risk that can lead to life-threatening chronic diseases and take away as many as 20 years off your life. Diet and exercise are the two most important aspects of weight loss, but most of us are thrown off the weight loss bandwagon because of the lack of options in the restrictive weight loss diet charts.This is where the role of natural detox water comes into play. Delicious and healthy detox water can be considered the ultimate cheat sheet to weight loss that helps to attain your weight loss goal while you sip on delicious treats.
How Detox Waters Promote Weight Loss?
Before moving on to the detox water recipes let us make sure that the hype about detox and infused water is not a fad and that it actually works. You must understand that a detox does not mean deprivation, its a process of kick-starting your health and rebooting your metabolism. The natural ingredients such as fruits, herbs, juices and spices included in the detox water and infused water aid the body to rid itself of the waste and toxins that it has been storing. It cleanses the liver, kidney and colon thoroughly so that the organs can carry out their functions efficiently. Following are some of the benefits of detox water that support weight loss:
Has very less calories
Flushes out toxins, waste and impurities from the body
Fills you up and reduces the consumption of junk food
Promotes the body to break down fat cells for water weight loss
Relieves stress and improves mood which in turn stops emotional eating
Keeps the organs healthy
Keeps the foods moving smoothly through the system
Strengthens the immune system
Prevents muscle fatigue during workouts
Helps to recover faster after strenuous workout sessions
25 Effective Detox Water Recipes for Quick Weight Loss
If you have a passion for healthy eating and staying fit the natural way, then you must have heard about Nichola Whitehead (Nic). She is a UK based specialist registered dietitian (RD) who runs her own nutrition blogs. Nichola's refreshing lemon cucumber and mint detox water helps to boost the detoxifying functions of the liver and the fluids also flushes out toxins and keeps the digestive system healthy.
Things You will need:
Cucumber
Lemon
Few sprigs of mint
Water
This detox water requires only a few basic ingredients that are always available in the kitchen. Lemon works as a natural cleanser and improves digestion, cucumbers provide hydration and mint adds a natural zing to the detox water.
Detailed Recipe and credit – nicsnutrition
The liver the most powerful detoxing organ that cleans all impurities from the body and this particular detox water sees to it that your lives works effectively to clean the system. The beet renders a beautiful red color to the water where as the mint and lime imparts a refreshing flavor to it.
Things You Will Need:
Red beet
Fresh peppermint leaves
Lime juice
Fresh water
The beet not only helps to boost the functions of the liver, but also thins the bile and enhances its flow. Menthol present in peppermint also gives a boost to the liver and increases bile floe to the duodenum. Lime juice curbs the appetite, balances the pH of the body and works as a natural diuretic to flush out water retention by increasing urination.
Detailed Recipe and Credit – everydayroots
The Fat Flush Water first came to the lime light when trainer Kim Lyons introduced it in The Biggest Loser. This detox water combines a number of citrus fruits, the most important of which is grapefruit. The other ingredients include cucumber, tangerines and mint – all of which are rich in antioxidants and vitamins that detoxifies the body and help in weight loss.
Things You Will Need:
Grapefruit
Cucumber
Tangerines
Peppermint
Naringenine, an antioxidant found in grapefruit promotes the liver to break down fat and increase insulin sensitivity, which helps to treat diabetes. Soluble fiber pectin helps to lower the level of cholesterol. Cucumber works as a diuretic and reduces bloating. Tangerines increase insulin sensitivity and promote the genes to aid calorie burn. Pepper mint helps in soothing the digestive tract and improving digestion.
Detailed recipe and credit – skinnyover40
Dr.Axe claims that this secret detox drink can cleanse the body, boost energy, burn body fat and even reverse certain diseases and it gives rapid results. The drink is made from all-natural ingredients and it takes just 2 minutes to prepare.
Things You Will Need:
Water
Apple cider vinegar
Lemon
Cinnamon
Cayenne Pepper
The healthy bacteria and enzymes in apple cider vinegar improves gut health. Lemon juice balances blood sugar and regulates the pH of the body. Cinnamon is a wonderful antioxidant that also balances blood sugar. Last but not the least, cayenne pepper helps to boost metabolism and promote calorie burn.
Detailed recipe and credit – draxe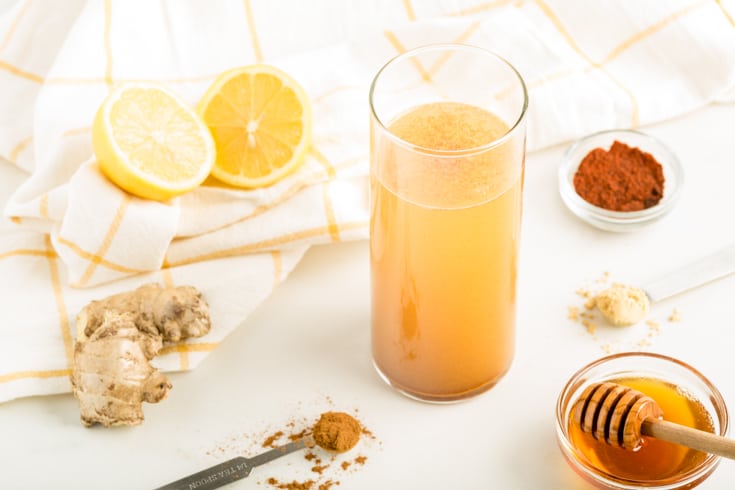 The fresh and juicy fruits in combination with lemons and basil add a refreshing flavor and a sweet and sour taste to the detox water and also supply all the essential nutrients to it.
Things You Will Need:
For Strawberry Flavored Water
Strawberries
Lemon
Handful of basil leaves
Ice
Cold filtered water
For Watermelon Flavored water
Watermelon
Handful of basil leaves
Ice
Cold filtered water
Strawberry and watermelon infused water is rich in vitamins and minerals and incorporating them into your diet can aid weight loss and promote complete detox by cleansing the kidney and liver. Strawberries have amazing diuretic, purifying and antioxidant powers. It is rich in vitamins A, c and E, iron, vitamin K and folic acid. Watermelon boosts the metabolism of the body and helps to flush out potentially harmful toxins from the system.
Detailed Recipe and Credit – natashaskitchen
This particular detox water in especially effective in relieving the post-holiday bloat caused by uncontrolled eating and drinking. It drives away toxins from the body and reduces water-retention by working as a diuretic. You can consume ½ gallon of this drink for a duration of 3 to 5 days to kick start your metabolism.
Things You Will Need:
Spring water
Grapefruit
Cucumber
Mint
Lemon
Lime
It takes just 10 minutes to prepare this drink and it can be consumed 1 to 2 hours after infusion. The enzymes in grapefruit burn the calories. Cucumber works as a natural diuretic and reduces bloating. Lemons and limes flush out toxins present in the colon and improve digestion.
Detailed Recipe and credit – skinnymom
This is a wonderful way to drink more water without getting bored with its plain taste. This flavoured water smells and tastes so good that you will actually crave for it. Just fill a pitcher with water and the other ingredients, let it steep overnight, strain out the fruits and enjoy with lots of ice.
Things You Will Need:
Filtered water
Green apple
Cucumber
Mint leaves
Lemon or lime juice
The water-soluble dietary fiber pectin found in green apples works as a natural fat blocker and helps to solidify salts, sugars and fats that are later removed from the body. Green apples are an amazing source of antioxidants flavonoids and vitamin C that helps to neutralize the cell damage caused by free radicals. It promotes the production of healthy cells and lowers the chances of chronic diseases.
Detailed Recipe and credit – kitchenfrau
Those of you who follow the reality show The Biggest Loser must be familiar with Jillian Michaels. Now, here is a weight loss detox recipe straight from America's favorite personal trainer.
Things You Will Need:
Purified water
Diet Cranberry juice
Lemon juice
Dandelion tea bag
Dandelion tea is known to break down stored fats and remove them from the body. The high levels of vitamin C in cranberry juice boosts metabolism. Lemon and cranberry juice work together to flush out toxins from the body.
Detailed recipe and credit – heandsheeatclean
9. Orange, Blueberry and Lavender Water
Here we have a tasty and flavorful fruit and herb infused water that is filled with the goodness of orange, blueberries and lavender. You can use either plain filtered water or coconut water for this recipe. This detox water can be consumed just 2 hours after infusion but you can steep the ingredients for 10 to 12 hours for driving out the taste and aromas to the fullest.
Things You Will Need:
Filtered water or coconut water
Ice cubes
Navel orange
Blueberries
Fresh lavender
Navel oranges boast of a high concentration of antioxidants, vitamin C, hesperidin, limonene, narirutin and beta-cryptoxanthin. These antioxidants protect the skin from the free radical damage and provide protection against some types of cancer such as breast cancer and androgen-dependent prostate cancer. Lavender helps to relax the body and mind, promote restful sleep and relieve headaches.
Detailed recipe and credit – beardandbonnet
The toxin-expelling properties of pineapple need no new introduction. The unusual combination of pineapple and sugarcane makes this a vivacious detox elixir that is loaded with health-benefiting nutrients. This infused water can be consumed immediately after preparation, but every minute of steeping makes it healthier and tastier.
Things You Will Need:
Filtered or spring water
Pineapple chunks
Sugarcane sticks
The enzymes in pineapples breakdown the fats present in foods. It also speeds up metabolism and boosts fat loss. Potassium present in sugarcane improves digestion and also reduces the levels of cholesterol and fat in the body.
Detailed recipe and credit – aspicyperspective
The unlikely combination of blueberry and orange is a great way to surprise your taste buds. This infused water works effectively in fighting the bulge. The citrus juices remove toxins and blueberries remove excess fat from the body, specifically the belly.
Things You Will Need:
Water
Mandarin oranges
Blueberries
Ice
Blueberries help in weight loss by changing the way fats and sugar is processed in your diet. The fat-reducing properties of blueberries are attributed to the high levels of antioxidants phytochemicals naturally occurring in these dark-colored berries.
Detailed Recipe and credit – thepeachkitchen
12. Raspberry and Mint Water
Raspberries are great for weight loss and it also helps to remove toxins from the colon, liver and kidney. Mint has wonderful antioxidant properties and it also helps in improving digestion. This detox water in filled with antioxidants that neutralize inflammation and boost the metabolism thanks to the presence of ketones in raspberries.
Things You Will Need:
Spring water or filtered water
Raspberries
Mint
Lemon juice
Just like blueberries, raspberries are also effective in burning stubborn belly fat. Raspberries also help to lower blood fats and cholesterol and improve blood sugar levels. The natural substances called ketones present in raspberries prevent the increase of overall body fat and deep seated internal belly fat.
Detailed Recipe and Credit – sammyandbella
13. Chia Detox Water
This gel like detox drink is a powerful source of energy that you can drink first thing in the morning every day. The best thing about the chia detox water is that it takes only 10 minutes of time to infuse.
Things You Will Need:
Water
Chia seeds
Lime juice
Agave nectar
Chia seeds absorb 9 times their own volume in water which helps your body to retain the much needed water and electrolyte. The soluble and insoluble fibers in chia seeds help to clean out the digestive tract. It also helps your body to absorb vitamins A, D, E and K. Omega 3 fatty acids present in chia is a powerful anti-inflammatory compound that neutralizes the cell damage caused by free radicals.
Detailed recipe and credit – thecasualcraftlete
This particular detox water in full of tropical flavors and essential nutrients. It contains the goodness of coconut water, aloe vera juice and lemon juice that work hand in hand to improve digestion, increase metabolic rate, remove toxins and neutralize inflammation – all at the same time.
Things You Will Need:
Filtered water
Coconut water
Lemon juice
Aloe vera juice
Alkaline water
Vitamin C present in lemon juice boosts the metabolic rate and the immune system. The citrus juices cleanse the body and flush out toxins from the liver and colon. Aloe vera and lemon juice work together to reduce inflammation and heal the digestive tract. Aloe vera juice also helps to reduce cholesterol and balance blood sugar levels in the body. Coconut water works as a powerful appetite suppressant.
Detailed recipe and credit – sunnyfitlife
The citrus juices of lemons and limes cleanse the body, remove stored toxins from the liver, colon and kidney and restore the pH balance of the body to a favorable alkaline state. This detox water is great for the skin as well.
Things You Will Need:
Lemons
Limes
Water
Ice cubes
Citrus fruits such as lemon and lime are considered the ultimate wonder fruits for weight loss because they help to control hunger and cravings for unhealthy foods. The alkalizing effect of citrus fruits reduce inflammation and bloating and boost energy levels. In addition, lemons and limes are extremely low in calories that makes them a perfect ingredient for detox water recipes for weight loss.
Detailed recipe and credit – houseoftreats
The colorful blueberries and raspberries add a refreshing aroma to the drink while the lemon slices render the much needed dash of tanginess to it. Just steep the ingredients in purified water overnight and drink it through the next day.
Things You Will Need:
Fresh or frozen blueberries
Fresh or frozen raspberries
Lemon
Purified water
Ketone present in raspberries breaks down the fat cells that accumulates in the body and helps in weight loss. Blueberries are especially effective in burning deep-seated abdominal fat. The catechins found in these dark skinned berries active the fat-burning genes in the abdominal fat cells.
Detailed recipe and credit – notquiteavegan
Do you know that stress is directly related to weight gain? Stressful situations increase the level of cortisol that enhances appetite and often leads to emotional eating. The stress relieving detox water helps to solve the problem of weight gain from the roots. The combination of strawberries, pineapple and basil heighten the senses, relaxes the body and the mind and helps to remove toxins from the system.
Things Than You Will Need:
Cold water
Ice
Pineapple cubes
Strawberries
Apple Cider Vinegar
Basil leafs
The natural antioxidants found in pineapple improve the immune system and the natural enzymes help in relieving constipation. Strawberries help in weight loss by stimulating the metabolic rate and suppressing hunger. The laxative effect of strawberries also helps in the detox. The antibacterial agents and antioxidants present in basil improve the functions of the liver.
Detailed recipe and credit – raininghotcoupons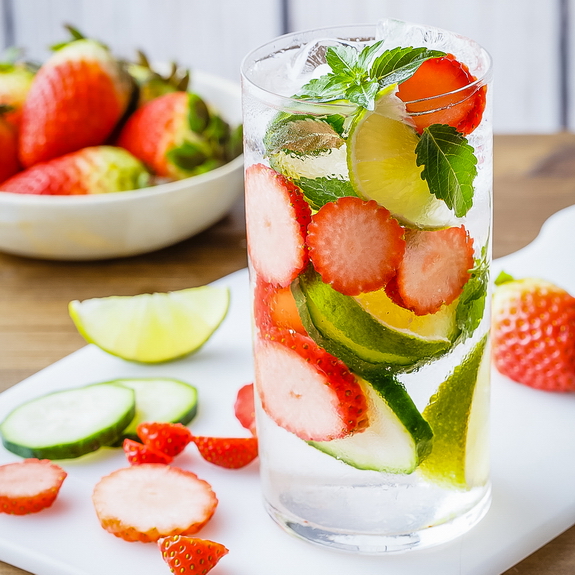 Revive your slacking metabolism and load up on antioxidants with this powerful green tea and citrus infused water. Green tea is well-known for weight loss, and the addition of grapefruit and lemon makes it all the more effective. It is important to infuse the ingredients and the green tea bags for 2 to 3 hours at room temperature so that the tea can brew properly.
Things That You Will Need:
Water
Lemon
Grapefruit
Green tea bags
Maple syrup
The antioxidants called catechins found in green tea can boost metabolism and promote weight loss. The active compounds in green tea breaks down the fat cells and mobilize them into the blood steam by boosting the effects of certain fat burning hormones. Lemon and grapefruit form a deadly combination that drives out toxins and waste products from the system. Maple syrup balances the strong acidic taste of the drink without out adding empty calories.
Detailed recipe and credit – infusedwaters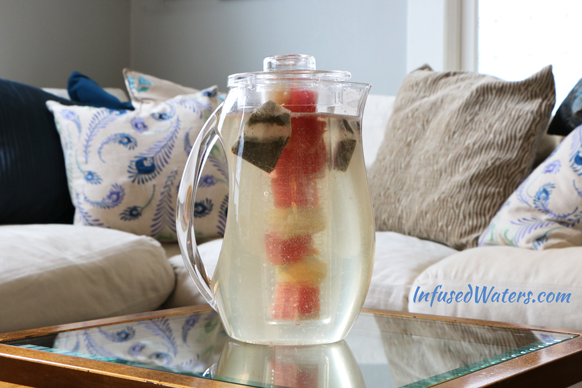 The grapefruit, orange and cucumber infused water is the best detox recipe to cleanse the body after weeks of rich foods during the holidays. It helps to give you a fresh start so that you feel lighter, healthier and more energized from the inside. Drink 8 to 10 glasses of it throughout the day for best results.
Things You Will Need:
Grapefruit
Orange
Cucumber
Filtered water
Research shows that a key enzyme called AMP-activated protein kinase found in grapefruit helps the body to use sugar effectively which boosts the metabolism and results in weight loss. Nootkatone, a component found in grapefruit increases fat-burning activity and reduces the accumulation of stomach fat. The skin-cleansing agent bromelain found in grapefruit helps to break down cellulite.
Detailed recipe and credit – thesitsgirls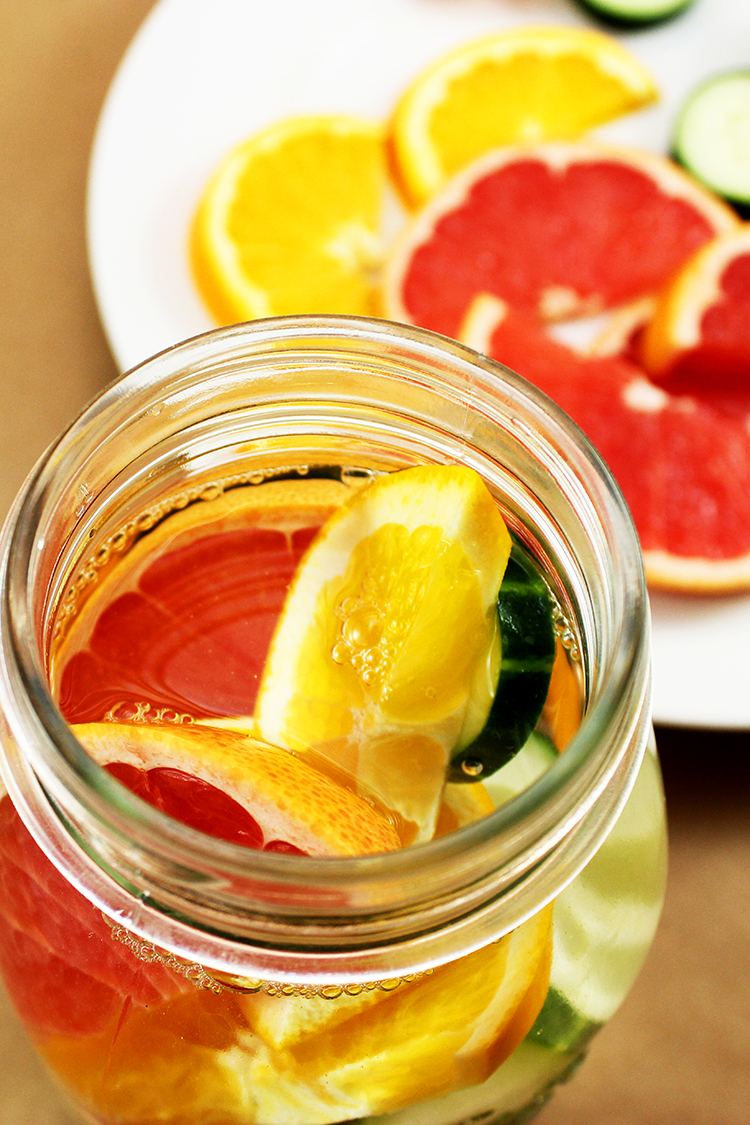 20. Flat Belly Raspberry Lemon Detox Water
The water is infused with fresh raspberries, lemon and dates that helps to flush out toxins, bring down chronic inflammation, improve the functions of the digestive system, reduce bloating and most importantly keep you energized throughout the day.
Things You Will Need:
Organic raspberries
Lemon
Dried dates
Lemon essential oil
Filtered water
As mentioned in previous recipes, raspberries are amazing weight loss foods because they possess ketones that boost metabolism and promote weight loss. The citrus juice of lemons helps to alkalize the body and restore the pH balance. The high level of antioxidants in lemons along with vitamin C, potassium, magnesium and calcium helps to support the functions of the liver and reduce chronic inflammation.
Detailed recipe and credits – aharmonyhealing
Here is a tasty and flavorful detox water recipe for all the mango lovers out there. The combination of mango and ginger provides an appealing flavor to the infused water along with a sweet-sour taste. You can reuse the ingredients 2 to 3 times or until the flavors are lost.
Things You Will Need:
Fresh mango
Ginger root
Filtered water
Both mangoes and ginger have powerful antioxidant properties that help to remove free radicals from the body and support the detoxification process. Vitamins A and C present in mangoes strengthen the immune system and it also boosts the metabolism so that your body burns calories more rapidly. Ginger works as a natural pain reliever thanks to its wonderful anti-inflammatory properties.
Detailed Recipe and credit – beautytips4her
This healthy and tasty fruit infused water is teaming with the goodness of fresh strawberries and kiwi which render a sweet and tangy taste to it. The mint leaves add natural flavors to the water and the combination of these ingredients work well to boost your metabolism and help you lose weight.
Things You will Need:
Kiwi
Strawberries
Mint leaves
Ice
Filtered water
Raw kiwi fruit contains actinidain that helps to improve digestion. Potassium found in kiwi helps to control blood pressure and the antioxidants help to protect the cell DNA from damage and reduce the risk of certain types of cancer. Kiwi also helps to remove toxins from the colon. The anti-aging properties of strawberries help to fight potential carcinogens and slow down skin aging.
Detailed recipe and credit – eatingrichly
This is an exceptionally refreshing drink that will surely revamp your energy level on a hot supper day, and it boasts of delicious taste and lovely flavors. This infused water is ready to drink immediately after infusing the ingredients but the taste and flavors intensify over time.
Things You Will Need:
Cantaloupes
Cucumber
Filtered water
Ice cubes
Sweet and juicy cantaloupes work effectively to curb hunger and promote weight loss. The antioxidants in cucumber neutralize the harm caused by free radicals and aid the body to flush out toxins that build up over time. Silica in cucumber helps to keep the skin and muscle tissues healthy. It also supplies the essential vitamins and minerals to the body.
Detailed recipe and credit – rachelcooks
24. Cucumber and Lemongrass Water
The combination of cucumber and lemongrass bring out the right flavors and taste. Add the ingredients to a pitcher and let it chill in the refrigerator for at least an hour and enjoy it all through the day.
Things You Will Need:
Cucumber
Lemongrass stalk
Filtered water
Ice
Lemongrass is the perfect ingredient to get rid of toxins and excess fats from your body. The diuretic and disinfectant properties of lemongrass help to detoxify the kidneys, pancreas, bladder and digestive tract. It helps to reduce water retention in the body and eliminate excess fat. It works as a natural sedative and helps to calm the body and mind.
Detailed recipe and credit – eatboutique
The refreshing flavors of kiwi and blackberry fuse together to create a simple yet delicious drink loaded with nutrients. You can consume the water 1 to 2 hours after infusion or refrigerate it overnight in order to maximize the flavors.
Things You Will Need:
Fresh blackberries
Kiwi slices
Filtered water
Sweetener (optional)
Blackberries have been identified as the top cancer fighting food that is packed with antioxidants called anthocyanins. These antioxidants protect the brain from oxidative stress and reduce the risk of Alzheimer's disease and dementia. It also provides protection against colon cancer. Blackberries are considered the ideal weight loss fruit because they speed up the body's metabolism and help in burring fat more rapidly.
Detailed recipe and credit – thecountrychiccottage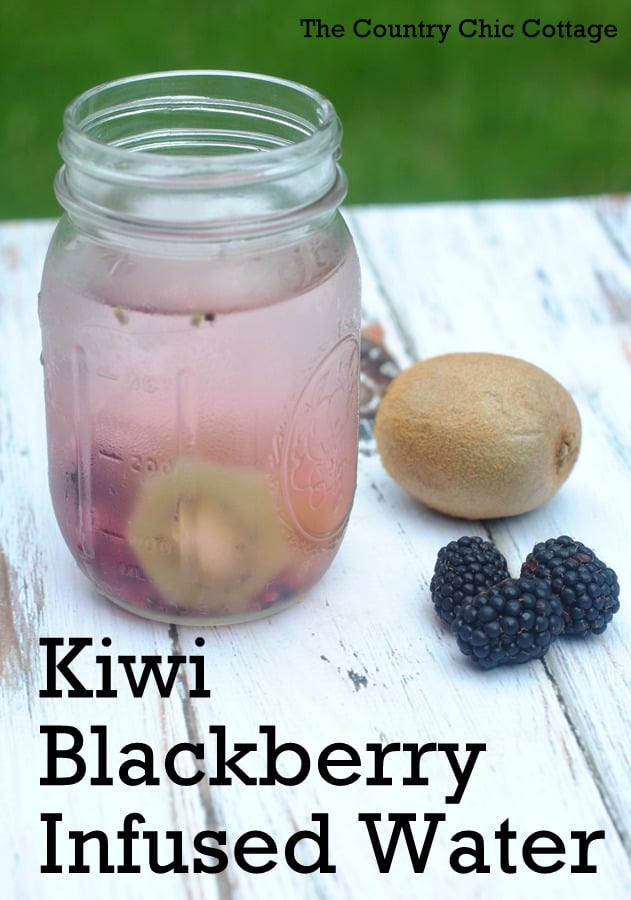 The best thing about detox water and infused water is that you never get bored or run out of options. You can always try out new combination of fruits, herbs and spices and come up with your own recipes. Try out different combinations of fruits and spices in order to identify what works best for you and remember that with a natural detox water, you can never go wrong.