Do you know which is the most diverse section of Indian cuisine?It's none other than snacks and appetizers that range from street foods and sweets to homemade munchies to accompany tea and coffee. Each and every Indian state has its very own snacks influenced by its local cuisine.
Although, snacks an appetizers are mainly served as starters in parties and gatherings before the initiation of the main meal, but in Gujarati and Andhra cuisine, snacks are served along with a main meal as well.
In this article, we bring to you a collection of 20 delicious and easy Indian snack recipes from different regions across India.
20 Delicious Indian Snacks and Appetizers
Total time – 1 hour 30 minutes
Serves – 12 Samosa
Recipe type – Snacks/Starter
Cuisine – Punjabi/North Indian
Ingredients –
For Samosa Pastry:
Maida (All purpose flour)
Ghee/Oil
Water
Carom seeds
Salt
Oil for deep frying
Stuffing 1:
Potatoes
Green peas
Green chili
Crushed ginger
Cumin seeds
Red chili powder
Asafetida
Oil
Salt
Whole Spices to be ground:
Cinnamon
Black pepper corns
Clove
Cardamom
Cumin
Fennel seeds
Coriander seeds
Dry pomegranate seeds/Dry mango powder
Stuffing 2:
Potatoes
Peas
Green chili and Ginger crushed
Garam masala powder
Red chili powder
Dry mango powder
Fennel powder
Coriander powder
Cumin seeds
Coriander leaves
Oil
Salt
Hot, crispy and spicy Samosa is by far the most popular Indian snack recipe available all over India. Samosa is frequently served with a piping hot cup of tea. Crispy flour pastry stuffed with spiced potato and peas filling are the ultimate food to brighten up a dull evening.
Although, a deep fired dish, you can soak up the excess oil from the Samosa by placing them over paper towel after frying. The wholesome and healthy potato and green peas filling add some much needed carbohydrate, fiber and nutrients to the dish.
Check out the full recipe from – vegrecipesofindia
Total time – 25 minutes
Serves – 3-4
Recipe type – Snacks
Cuisine – North Indian
Ingredients –
Carrot
Capsicum
Cabbage
Onion
French beans
Besan
Rice flour
Salt
Carom seeds
Mint/Coriander/Dill leaves
Ginger-Garlic paste
Garam masala powder
Oil for deep frying
Pakora are a favorite snack of Indians. They can be prepared in no time. Being a versatile dish it can be made with various ingredients – just potatoes, mixed vegetables, eggs, paneer, chicken, fish, the options are endless. The mixed vegetables combined with gram flour and spices and deep fired in oil makes them sinfully delicious.
This is yet another deep fired snack but the combination of so many healthy and wholesome vegetables more than makes up for the deep frying. The vegetables used in the pakora make it a filling snack and supplies dietary fibers, vitamins and antioxidants to the body.
Check out the full recipe from – indianhealthyrecipes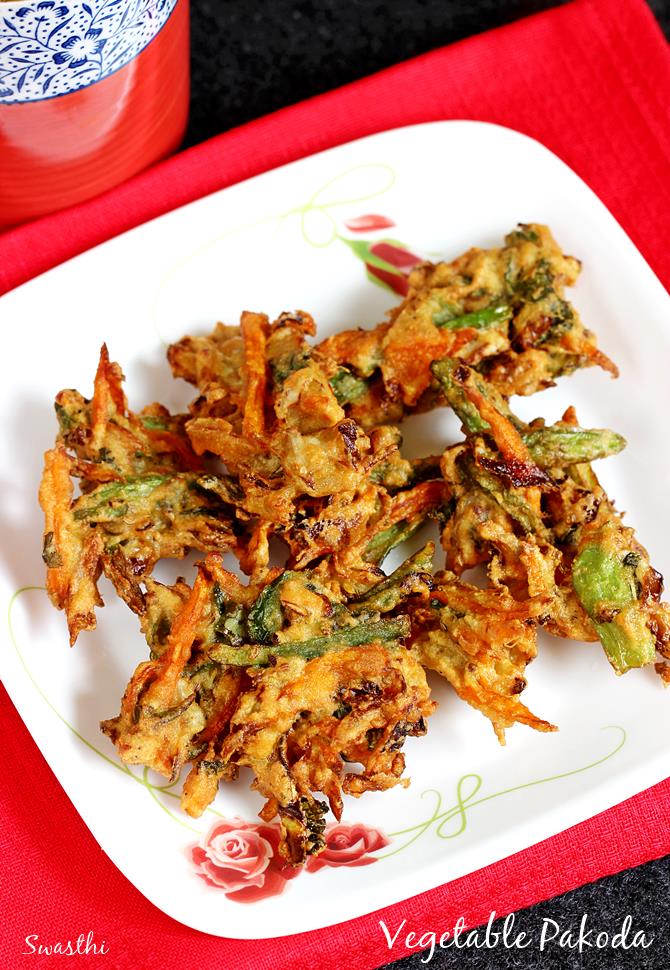 Total time – 20 minutes
Serves – 2 Plates
Recipe type – Snacks/Starter
Cuisine – North Indian
Ingredients –
Papdi
Green and Sweet Chutney
Thick curd
Boiled potato
Onion
Coriander leaves
Sev
Chili powder
Chat masala powder
Salt
Sugar
Dahi Papdi chat is a popular Indian street food that consists of refreshing combination of crispy papdis, boiled potatoes and crunchy onions topped with rich curd, tangy chutney and sev. The appetizing flavors and tangy taste of the chat bursts in your mouth as you chew through the crunchiness of the papdis.
Dahi Papdi Chat is a healthy and tasty snack that does not call for any deep frying. It also makes minimal use of spices – the taste and flavors come from the curd, chutney and herbs. It makes the perfect light snack for summer evenings.
Check out the full recipe from – sharmispassions
Total time – 50 minutes
Serves – 6
Recipe type – Snacks
Cuisine – Maharashtrian
Ingredients –
Cauliflower
Potato
Capsicum/Bell pepper
Garlic
Ginger
Tomato puree
Green peas
Red chili powder
Turmeric powder
Pav Bhaji masala
Oil
Butter
Onion
Coriander leaves
Lime or lemon wedges
Pav buns
When made the right way, Pav Bhaji is one of the healthiest of Indian street foods that includes a lot of healthy veggies and does not require any deep frying. The spicy and savory Bhaji is made with mashed and spiced vegetables that go with the soft and fluffy Pav that are buttered and toasted.
This is a mellow spicy, no-frying recipe that contains a plethora of healthy vegetables such as cauliflowers, potato, bell pepper and green peas – all of which supply considerable amounts of dietary fiber, antioxidants, vitamins and proteins to the dish.
Check out the full recipe from – cookingandme
Total time – 4 hours 20 minutes
Serves – 4-5
Recipe type – Snacks/Starter
Cuisine – North Indian
Ingredients –
For Vada:
Urad dal (Split and skinless)
Water
Green chili
Salt
Baking soda
Oil for frying
For Yogurt Mixture:
Plain yogurt
Roasted cumin powder
Red chili powder
Salt
Other Ingredients:
Green coriander chutney
Tamarind date chutney
Red chili powder
Roasted cumin powder
Dahi Vada or Dahi Bhalla is a famous North Indian Snack that consists of deep fried lentil dumplings soaked in water and served with yogurt and chutney. The appetizing sweet and tangy taste of the Dahi Vada with its mellow spiciness makes it suitable for the entire family, including the kids.
This is a healthy and wholesome Indian snack that contains wholesome lentils and curd. While the fibers in lentils reduce cholesterol, improve heart health and stabilize blood sugar, the probiotics present in curd improve digestion and boost immunity.
Check out the full recipe from – spiceupthecurry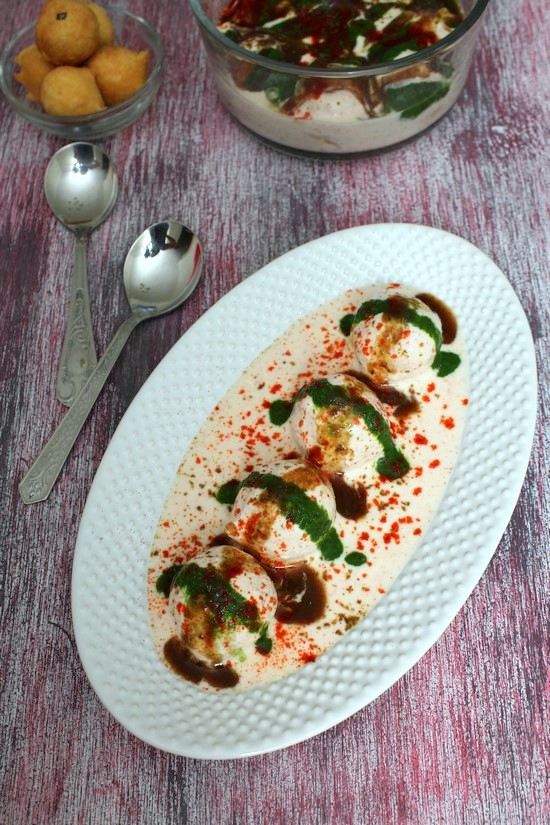 Total time – 20 minutes
Serves – 3
Recipe type – Snacks/Appetizer
Cuisine – Mysore, Karnataka
Ingredients –
Maida (All Purpose flour)
Rice flour
Onion/Coconut chopped
Green chilies
Ginger
Salt
Cumin
Yogurt
Soda
Water
Oil for frying
Mysore Bonda is a popular South Indian snack that originated in Mysore, Karnataka, but it is hugely popular in Andhra Pradesh, where it is known as Mysore Bajji. These soft and fluffy dumplings made from rice flour and all-purpose flour taste amazing with coconut chutney.
The best thing about this snack recipe is that it requires a few basic ingredients and takes very less time prepare. Being a non-spicy recipe, it will be loved by kids as well. You can soak up the excess oil from frying by placing the dumplings on a layer of paper towels.
Check out the full recipe from – renushome